RACE + DISABILITY Upcoming Programs
Please join us for upcoming programs!
FISA Foundation, The Heinz Endowments and The Pittsburgh Foundation are excited to announce new programming exploring the intersection of racism and ableism.
---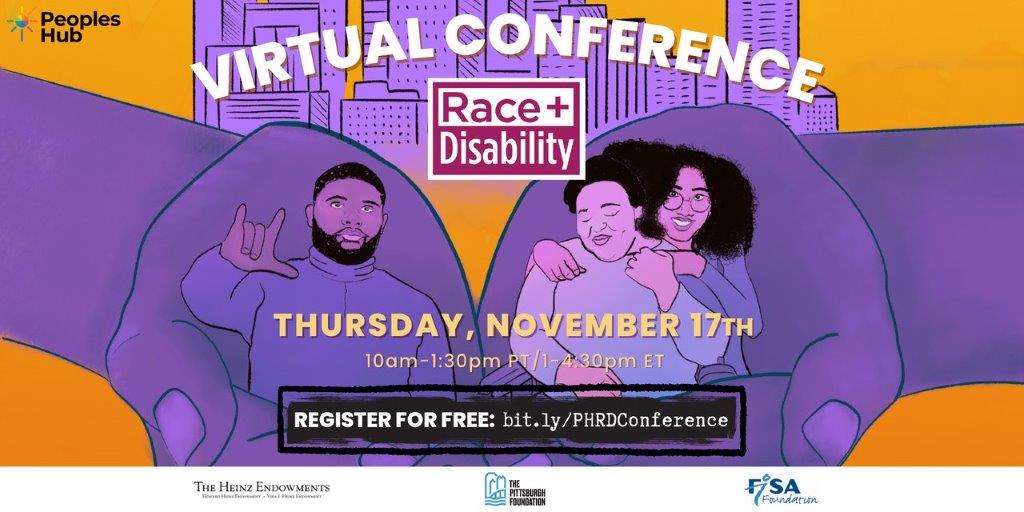 RACE + DISABILITY: Continuing The Conversation
a virtual conference
Thursday, November 17, 2022; 1:00-4:30pm ET
NO COST TO ATTEND. ASL and CART will be provided. Register below.
Our first virtual conference includes a funder panel, a discussion among people of color with disabilities about addressing systemic racism and ableism, and reflections from several justice-focused organizations about the journey to practice Disability Justice.
AGENDA:
1:00-1:15 pm Why Are We Still Talking About Race and Disability?
A conversation among FISA Foundation, Heinz Endowments, The Pittsburgh Foundation
1:15-2:15 pm Keynote and Q&A: Understanding Disability as Political in Anti-Ableism Work
Disability is typically understood as an identity marker rather than a political class of people. Operating from the latter provides us a different set of questions and opportunities by incorporating how disability is manufactured, created and exploited. This is the basis in which we build power amongst disabled people and develop relationships of solidarity across issues and groups. PRESENTER: Dustin Gibson, Director of Access, Disability and Language Justice at PeoplesHub.
2:15-2:25 pm Break
2:25-3:20 pm Panel Discussion: Centering the Voices of People of Color with Disabilities in Addressing Systemic Racism and Ableism
3:20-3:30 pm Break
3:30-4:30 pm Developing Analysis and Shifting Culture: The Journey of Practicing Disability Justice
PeoplesHub has led a year-long cohort of movement organizations in the Pittsburgh region focused on integrating a disability justice framework into their work. They participated in workshops, strategy clinics and coaching sessions to develop strategies to counter ableism, support disabled people, build and implement a set of access-centered practices, and shift the culture of access in organizing circles. Coaches and organizers will reflect on the shape this work has taken over the past year.
---
June 14, 2022; 12:00 PM – 1:30 PM ET Join us for this interactive lunchtime conversation. Hear from leaders who have sustained DEI efforts in their organizations, then strategize with peers about how to dive deeper in our own lives and workplaces.

Tuesday, June 7, 2022; 12:00 PM – 2:00 PM EDT Join anti-oppression coach Wanda Swan as she facilitates a two-hour session for white-identified and white-assimilated allies, focused on how to respond after making a mistake and saying or doing something harmful.
Why focus on the intersection of race and disability?
Disability is a common human experience, 20% of Americans have some type of disability. Many disabilities are hidden (such as mental health, intellectual disabilities, autism, chronic illness, traumatic brain injury…). And many people acquire disabilities at some point in their lives through accident, illness or aging. Every organization and group includes people with disabilities.
Dr. Kimberle Crenshaw coined the term "Intersectionality" to describe the experience of living with multiple identities (gender, race, culture, disability, gender identity, sexual orientation, immigration status, etc). We recognize that while there has been more conversation about some intersections (like race and gender) there have been other experiences that are often overlooked, even in conversations about equity (such as the experience of people of color who have disabilities). There is a growing body of research illustrating specific disadvantages experienced by people of color with disabilities.
FISA Foundation, The Heinz Endowments and The Pittsburgh Foundation are partnering to strengthen our work at the intersection of race and disability, and to better address the needs of people of color with disabilities.